Proteus Multi Surface Sanitizer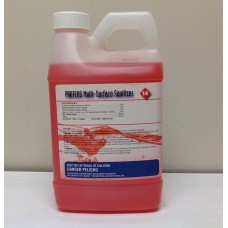 Product Unit:
2/.5 Gallon Case
Item Number:
PRMSS163
Reward Points:
Availability:
Out Of Stock
Price:$64.00

Description:
This super concentrated formulation is designed to be dispensed through a chemical management system for optimum results. This product has been cleared by the EPA in 40 CFR Section 180.940(a) and (c) for use on food processing equipment, utensils, and other food - contact articles at a concentration of 150-400 ppm active. When used as directed, this product is formulated to sanitize hard nonporous, inanimate environmental surfaces: Walls, metal surfaces, stainless steel surfaces, glazed porcelain, glazed ceramic tile, plastic surfaces, bathrooms, ables, chairs, and telephones. Recommended dilution: ½ ounce per gallon of water.
Recommended dilution: 2 ounces per gallon of water
Write a review
Your Name:
Your Review:
Note: HTML is not translated!
Rating:
Bad
Good
Enter the code in the box below: